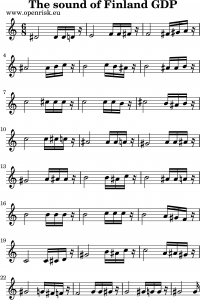 Listening to the sound of the economy
How do we make sense of the torrent of economic datasets becoming available? One obvious answer is via visualization. This domain is experiencing a veritable renaissance and you ain't seen nothing yet (no pun).
Here we want to do instead an initial, and only partially tongue-in-cheek, exploration of a less widely known approach, namely sonification, the use of audio to convey information.
The datasets are the GDP(*) timeseries of European countries as provided at the ECB's Statistical Data Warehouse. Our choices for converting the set of GDP results to audio involves the following steps:
Calculate the average GDP return
Calculate the volatility of the GDP return
Bucket (discretize) individual realizations in units of volatility above and below the average
Make an assignment (map) from buckets to musical notes
The outcome is a musical score. See for example here the score for Finland: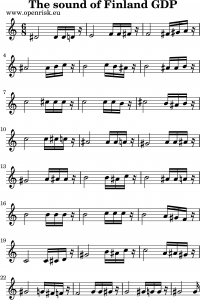 You can listen to this (and all other EU countries) at the EU Risk Dashboard here.
How do the European economies sound to you? Will the post-crisis period end on a high note or a blue note?
(*) The use of GDP is for sonification purposes only and does not necessarily imply endorsement of this classic economics indicator as a meaningful metric