Open Risk proud to be funded by EU FIWARE FINODEX accelerator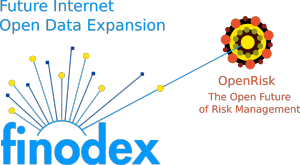 Open Risk is proud to be funded by the FIWARE FINODEX accelerator!
Finodex, the European accelerator for ICT projects based on Open Data and FIWARE technologies, has already chosen over one hundred projects via two open calls for proposal.
This week the results of the second call evaluation closed in last September have been published, and 52 projects from a total of 297 have been chosen by a panel of experts. These projects will join the other 49 selected in the first open call.
Finodex focuses on supporting projects of SMEs and entrepreneurs with the aim of generating new ICT-based products and services. To that aim, Finodex counts with an overall fund of €4.64 million euros to support the selected projects. Each project could reach a direct equity-free funding between 10,000 and 170,000 euros. Participating companies and entrepreneurs are mentored by the Finodex consortium and the specialists in the FIWARE ecosystem. After passing different phases of the acceleration the companies will present their business ideas to potential investors.
The Finodex accelerator is supported by the European Commission and is lead by ZABALA Innovation Consulting and the consortium is formed as well by Trento RISE, Copenhagen Business School, Engineering, ASOLIF, Europe Unlimited and Konsulentfirmaet Ivan Häuser.
Key data in the second call
Among those elected in this second call there are projects from Spain (10), Germany(7), Italy (7), Greece (6), Poland (4), Bulgaria (3), Slovenia (3), Belgium (3), United Kingdom (3), Holland (2), Switzerland (1), Austria (1), France (1) and Serbia (1).
Most of the projects, a total of 38, are from SMEs, while 14 are run by groups of entrepreneurs, which are expected to establish their own SME after the acceleration process.
Talking about the domains addressed by the projects, the Smart Cities (17 projects) is the preferred choice by the selected projects, followed by eHealth (9) and Agrifood (9). Other proposed themes are related to transport, energy and environment, social & learning and manufacturing & logistics.